In Focus
Tool Steel: Balancing The Productivity
Mould steel can be categorised as backbone of tooling industry as the quality of the tool defines the overall productivity and performance of the mould. With many metallurgical developments and expectations are on rice, this space is going to grow even further. Tool
Read More

Leaders Speak
"Make in India, For India"
"With the onset of the Internet and opening of the Indian economy, our tooling industry has been able to evolve and grow continually and in the next few years we would be able to compete with the best in the world", says Pankaj Goel, Managing Director, Goel Steel in conversation with Nishant Kashyap. Mr. Goel is an alumnus of B BITS, Pilani, and has over two decades of experience in the industry.B B
Read More
"Indian Tooling Industry is on Growth Trajectory"
"One clear trend emerging now is that the amount of imports of die and moulds is reducing whereas the domestic demand is rising. On average, the die and mould components market has been growing at an average CAGR of 15-16% in the recent decade," says Mr Pulkit Datta, Head of Sales and Marketing - Tool Steel Products, Hitachi Metals India in conversation with Nishant Kashyap.
Read More
"Indian tooling suppliers can look forward to positive days ahead"
The Indian Die and Mould Industry is growing rapidly, thanks to the growing demand from the OEMs. End users are trying to source more and more tools from the domestic suppliers which is a good shine as it not only helps in getting better business opportunities but also to enhance the productivity and capabilities. Companies in India, I see, are now ready to adopt technologies. There is always a limitation for good machines and good dedicated manpower, and also the input cost is a big limitation. However, things are changing gradually and we can expect a good days ahead.
Read More

Tech Focus
Premium Tool Steels b The Key to High Class Die Casting
Die cast components have become a companion in our daily life. Household articles, cases for electronic instruments or structural components of cars and two wheelers are produced in large quantities by highpressure die casting (HPDC). Complex shapes, higher surface requirements, and increasing economic pressure to reduce production costs are actually permanent challenges to the die casting industry.
Read More

Case Study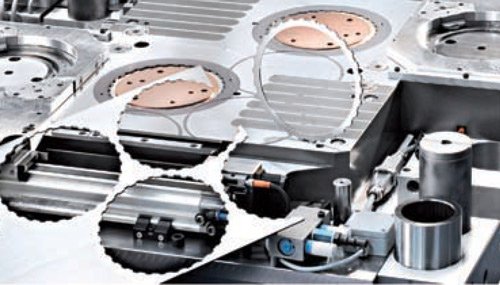 Technology Partners Profit from Innovative Tooling Concepts
Together with its technology partners, Feintool is engaged in the ongoing development of innovative tooling concepts to enhance product quality and gain a new competitive edge. This article describes two trendsetting manufacturing methods for gearbox parts. The first process examined is for producing a well-known working part in the clutch packs of automatic transmissions, while the second example concerns the first operation in the manufacture of synchromesh clutch bodies for manual gearboxes. Both cases involve patented processes using sophisticated fineblanking tooling.
Read More

Tips & Tricks
Lock Down:Things to Care for in Tool / Mould Shops!


Locked down for 21 days and how to come back to work with most of things in the same condition as you left them. Read on to revise most of the things you already know and would have implemented. Some things tool shops need to take care while we are closed

Read More
Preventive measures for shut down CNC machines for long time
The spread of coronavirus pandemic is worrying everyone globally. The increasing number of cases has resulted in lockdowns. While we all are trying to get used to this new life, the machines are lying idle in shop fl oors. Here are 8 tips to keep your machines healthy during the lockdown period:
Read More